Note: This tip is for simple PDF's only, not forms or documents that contain complex formatting.

If you're like me and ever find yourself with a PDF, but not the original doc it was created with, you might appreciate this quick tip.
I use Adobe Acrobat Pro, so it's easy enough to open a PDF and then Export as a Word Document. However, Adobe translates the PDF's paragraph formatting into text frames, so even though the resulting doc might initially look like your swanky PDF version, you'll soon realize those text frames are going to be in the way if you want to do any kind of editing.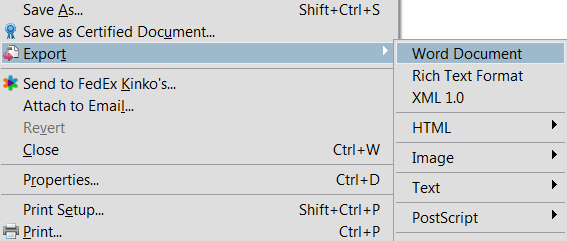 Attempting to remove each text frame one at a time is way too time consuming, even with keyboard shortcuts. Don't do it! The simple trick? With your new doc open, Select All and then hit CTRL+Q. This will remove all paragraph formatting, and with it, the offending frames. Of course, you'll need to reformat a few things, but after looking at a doc full of text boxes and not knowing where to start, 2 quick keystrokes can return you to the familiar world of Word, and then a little formatting seems like cake!
If you found this post and used this tip successfully, please leave a comment and let me know I'm not the only one who gets excited when I find an easy trick for an annoying problem!